Are Apple rewriting your podcast MP3 ID3 tags??
On today's Daily Source Code, Adam Curry mentions that when a podcast gets downloaded and synced through iTunes, Apple are rewriting the ID3 tags in the MP3 file – editing it and replacing some fields with info from the RSS feed.
WTF?? – Was my initial reaction. But I do wonder what people think about this, if it;s true. It's clearly just as bad as the feed manipulation Podshow were seen to be doing.
At least poshow fixed it. I doubt Apple will.
What do YOU think?
Apple still make it impossible to copy and paste a podcast RSS feed (hidden behind the 'i' icon, AFTER you susbscribe using iTunes) so you can subscribe using a different reader. I suppose the only thing to do is use another podcast feed reader (podcatcher).
The KoolAid effect around the iPod is staggering. No one who owns one has any idea how the rest of the world without an iPod or iTunes is doing things. It's like AOL's early walled garden kidding users that there was not a world wide web out there. So many people think that to get podcasts, they need an iPod. So many people are forced into using iTunes, which is one of the worst bits of software I have ever been forced to use. I mean it.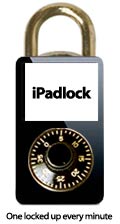 I got an iPod to just see for myself what all the fuss is about. Sure, I too can get swept off my feet my a lovely, well-built gadget but the user experience with iTunes and the iPod has been awful. I wonder if it would be different if I didn't know as much as I do about the alternatives and freedom available.
I'm amazed Steve Jobs didn't announce an iPadlock at yesterday's WWDC. Foolproof lockin for the masses.
I do love my MacBookPro though. Can't wait for the winter. Mmmm, toasty. 😉